CoNZealand has released  the site selection ballot to choose the location for the 80th World Science Fiction Convention in 2022.  The two bids are for Jeddah, Saudi Arabia, and Chicago, Illinois, USA, and their filing information is below.
Voting in Site Selection
You must be either an Attending or a Supporting member of CoNZealand to vote in site selection.

Payments for the advance membership fee can be made by following the information under Advance Supporting Membership Purchase below and must be made by 12:00 noon, Wednesday 29 July (NZT) (5pm, 28 July (Tuesday) PDT.

The deadline for postal mailed ballots has passed and the deadline for email ballots is 29 July at 12:00 noon NZT.

Printed ballots have been distributed with Progress Report 3.  
Site Selection Ballots
Use this if you are going to (a) print, write out by hand, and mail or (b) scan your ballot on a scanner to email your A4 ballot. 
Printable ballot in US letter format
Use this if you are going to (a) print, write out by hand, and mail or (b) scan your ballot on a scanner to email your US letter ballot.
Use this if you are going to fill in your ballot on your computer and email your ballot.
To download a ballot, right-click the link and choose "Save Link As" (or its equivalent in your browser).
Advance Supporting Membership Purchase:
Follow these instructions for purchasing your Advance Supporting Membership (token) via Grenadine:
Go to token purchase website:

https://sites.grenadine.co/sites/conzealand/en/cnz-siteselection

In the very top right hand corner, click on the words "Log in"

At the "Log In" page, enter the email address that is associated with your CoNZealand registration. Click "Continue."

If this is your first time logging into Grenadine, you will be asked to confirm that it is you – please follow the confirmation instructions.- See note below

After clicking on the login link from email, click on "CNZ-Site Selection" at the top of the page (not the bottom one.) You do not need to complete the personal information on this page to vote.

Click on

either

"Get More Tickets" under the "You're Registered!" button on the right side of the screen

OR

go to the bottom right of the screen, click "Add to Cart" and then click on "Proceed to Check Out" in the green bar at the top of the screen. You will only be able to purchase one token at a time.

Fill out your name and address information form and then click "Continue."  You have 20 minutes to complete the purchase process.

Review your information to make sure it is correct. Click "Pay with a credit card" and enter your credit/debit card payment information.

The screen will show a Confirmation # at the top of your receipt. Write this number in the "voting token" field on your ballot.  You will receive 2 confirmation emails, one from Grenadine and one from receipts@conzealand.nz, which is the Stripe record for your credit card charge.

You do not need to print any tickets, unless you want one for a receipt.
NOTE: If you choose to have a "Magic Link" sent to your e-mail address as part of your confirmation, it is only good for 1 hour. If you don't receive it promptly, be sure to check your "Spam" or "Promotions" folder.
Postal Mail Ballot Instructions: 
** The Postal Mail Ballot deadline has now passed. Please email your ballots using the instructions further below**
Email Ballot Instructions
PDFs must be signed, and a typed name in the signature field shall be deemed sufficient. An electronic signature may also be applied in the field if available. 

Ballots must be submitted by email as a PDF to siteselection2022vote@conzealand.nz. 

The PDF file can be the fillable PDF A4 version downloadable from the link above, or an A4 format scan of a signed printed out ballot.

PDF ballots must be received by Wednesday, 29 July, 2020, 12:00 pm (noon) New Zealand time. 

You will not receive a receipt for your ballot, however the Site Selection Administrator checks all email ballots promptly. They will reach out to let you know if the ballot is not legible or is unsigned and give you a chance to cure a defective ballot.
If you have any questions regarding the ballot or the application of Article 4 to the selection of the 80th Worldcon, contact us at siteselection@conzealand.nz. 
Question Time for the 2022 Bids
There was a session on 28 June for a Question Time for the 2022 bids for them to make presentations and be asked questions. Watch the highlights below.
2022 Worldcon bids
These are the bids for organising Worldcon in 2022.
Chicago, USA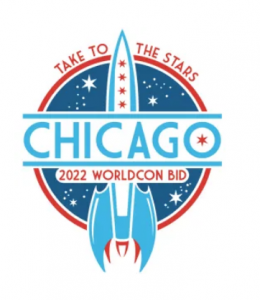 Chicago in 2022 Bid Confirmation letter
Chicago in 2022 Facility Letter of Agreement
Jeddah, Saudi Arabia

Jeddicon 2022 Bid Confirmation letter
Jeddicon 2022 Facility Letter of Agreement
Jeddicon 2022 Facility Letter of Agreement (English translation)